PNC Bank offers student and workplace banking, as well as financial literacy programs for students, faculty and staff. Additional highlights of our partnership include:
Virtual Wallet Student® for Student Banking with PNC
Virtual Wallet Student is a digital banking experience that includes checking and savings. It helps you take control of your money with simple easy-to-use interactive tools. Check balances, make payments, and more – all through PNC Online Banking or in the PNC Mobile Banking App.

For more information, visit pnc.com/georgetown.
Five on-campus PNC Bank ATMs
PNC ATMs are located on campus in the Leavey Center (accepts deposits), Village C, Healey Family Student Center and the Law Center. Additional ATMs and branch locations can be found using PNC's branch and ATM locator. 
Georgetown PNC Bank Visa®  Debit Card
 Customize your wallet and order a PNC Bank Visa® Affinity Debit card designed just for your school. 
GoCards linked to PNC Accounts
Linking the Georgetown GOCard to your PNC accounts adds ATM and purchasing functionality to the Georgetown One Cards. 
NOTE: Linking is only available for those with a physical GOCard. 
Support to international students opening U.S. bank accounts
Students will have access to U.S. banking educational materials and translation services. If you have a Virtual Wallet Student you can receive one incoming domestic or international wire transfer to the Spend per statement period at no charge. More information can be found on PNC's international student website.
Access to PNC My Finance Academy
PNC wants you to have the knowledge and confidence to manage your money. That's why PNC created the PNC My Finance Academy. My Finance Academy provides information and real-world insights for everyday financial challenges. My Finance Academy can help you understand financial basics and make the most of your money.
With PNC WorkPlace Banking, faculty and staff can gain access to money-management tools that fit your schedule and lifestyle. Learn more about PNC WorkPlace offers and program.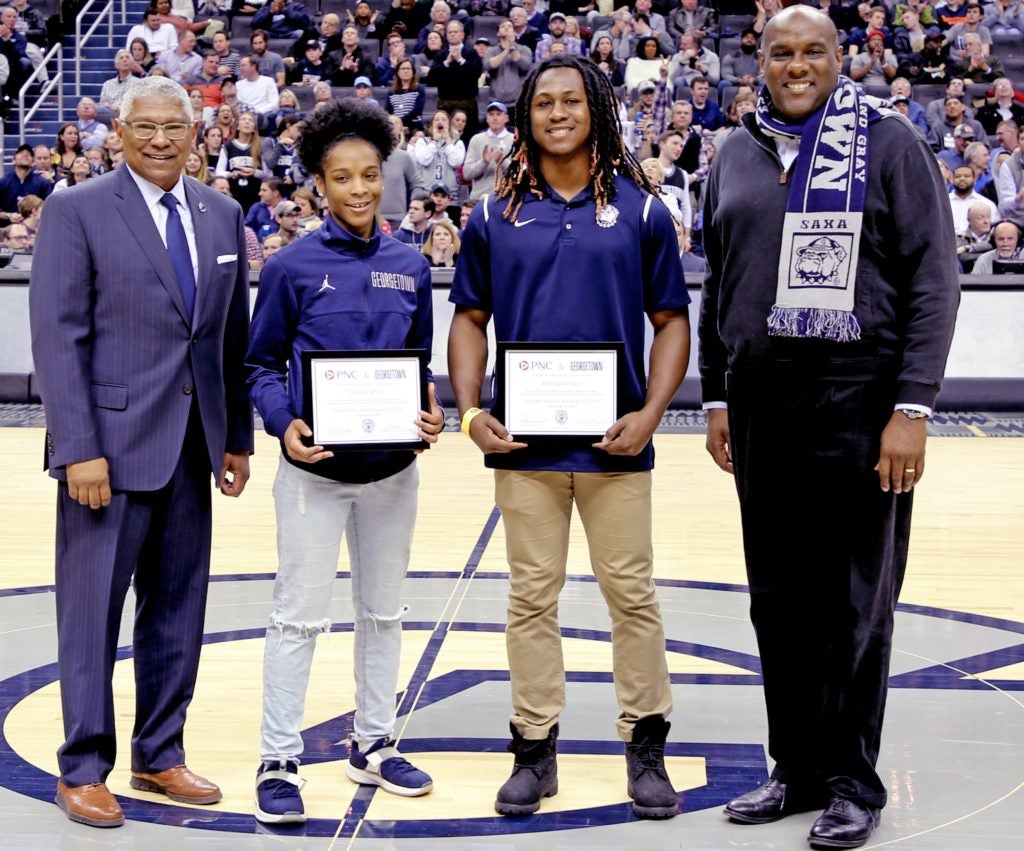 DOE Cash Management Rule 34 CFR 668.161-668.167
Total consideration paid in the period July 1, 2020 through June 30, 2021: $135,000.00 + $12,000.00 (branch rent) = $147,000.00
Total number of customers holding student financial accounts which originated under the contract from July 1, 2019 through June 30, 2021: 883
Mean student costs: $11.75 in the year ended June 30, 2021
Median student costs: $0 in the year ended June 30, 2021
---
Virtual Wallet Student is a registered trademark of The PNC Financial Services Group, Inc.
© 2019 The PNC Financial Services Group, Inc. All rights reserved. PNC Bank, National Association. Member FDIC