Vending Services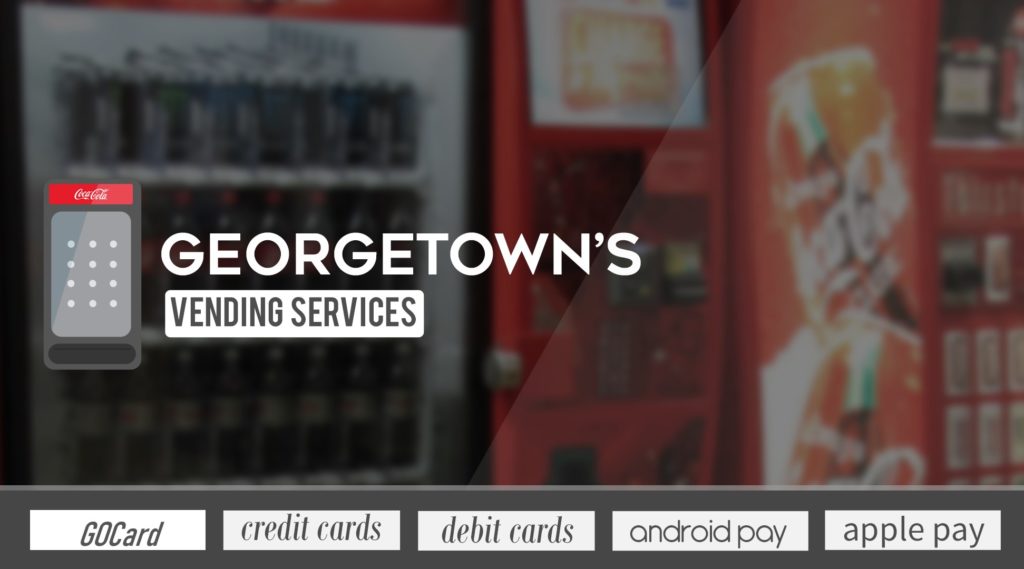 Vending Services provides the Georgetown University community with well known products at reasonable prices. Each machine located on every campus provides a toll-free number to report a repair or request a refund. Our vendors stock these machines every business day, guaranteeing fresh products. Additionally, all of our machines are equipped to accept GOCard.
There are a wide variety of vending options across GU's main campus, as well as our downtown campuses. You can find everything from snacks to coffee and even everyday essentials like toothpaste. The best part is, you never have to worry about them being closed. If you need a quick bite during a long study session, you don't have to go far to find it.

Vending Services is your quick and easy solution to your on-the-go needs. Credit card readers on each machine make payment quick and easy. You can also use debit dollars on your GOCard. Many of the machines now also accept some forms of mobile payment, such as Apple Pay. It doesn't get much easier than that!
Vending Services Contact and Comments
Accent Vending
(800) 969-8363 / Support@accentfoods.com
Coca-Cola Beverage Vending
(800) 224-4012
Feel free to complete an online comment card to let us know if you experience an issue with a vending machine.

You can also contact Auxiliary Business Services directly with any questions, concerns, or general feedback.
Coca-Cola Product Requests
Auxiliary Business Services is proud to offer Coca-Cola beverages and premium products to Georgetown groups. The next time your group is having an event, submit a beverages request form, and we'll handle the details! Please note that student groups will need approval from the Center for Student Engagement to request products. Keep in mind that deliveries may take time to arrange. Therefore, we ask that you please submit the request at least 2 weeks prior to the event.