Zipcar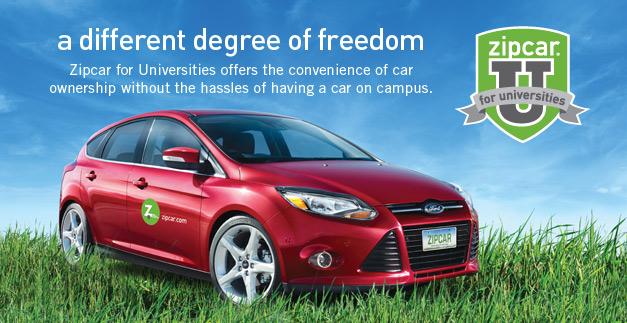 Eight Zipcars are available on the main campus of Georgetown University.  Five cars are parked in front of Harbin Hall across from the Southwest Quad. Another three cars are parked behind Lauinger Library. Two more are parked a few blocks from the main gate on the corner of O Street and Wisconsin Ave. It's easy! Just sign up, reserve, and drive!
Georgetown University has participated in the Zipcar program since 2004, allowing students and employees to access this innovative car sharing program. Making Zipcars available on campus aligns with the environmental sustainability principles and commitments of the University. It decreases the number of cars on the road and, in turn, means less gas and oil consumption. This reduction leads to environmental benefits, not to mention cost savings.
And it's easy to use! Join the program by visiting the Zipcar website or calling (866) 494-7227. From there, reserve a car online and use your membership card to unlock and drive. Insurance and gas are included, and there is a mobile app so you can access the system on the go. When you sign up using your Georgetown email address through the link above, you'll receive the promotional $15 yearly membership. Compared to the $7 monthly membership or $70 yearly membership through the regular Zipcar signup process, it's a no-brainer! Plus, driving a Zipcar to campus means you won't have to parallel park on the narrow Georgetown streets. That alone should be reason enough!
Did you also know Zipcar can be used for GU departmental use? Don't let transportation challenges prevent you from getting the job done. Just click the link above to find out more about this exciting program.